Heavy-Duty & High-Security Shredders
Helping businesses comply with data destruction regulations as per the Protection of Personal Information (POPI) Act
---
HSM Shredders
HSM's industrial-grade shredders allow businesses to shred high volumes of paper, and to destroy documents in line with the most stringent of security requirements.
Prioritising data privacy  
Devices specifically designed for a large throughput and long total operating time. As a top model, the HSM Powerline FA 500.3 processes bound documents and folders with up to 550 sheets per cycle. These powerful large devices are perfect for large archives or as a central station for document shredding.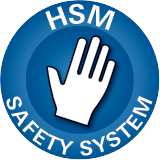 Heavy Duty / High Security Shredders
Security level (DIN 66399)
---
Data protection for high volumes of data and documents
The industrial document shredder from HSM is synonymous with durable technology, high throughput and a long lifetime. As a top model, the HSM Powerline FA 500.3 shredder processes bound documents, digital media and complete folders with up to 550 sheets per cycle. This makes these powerful high-volume document shredders ideal for large archives or as a central point for document destruction.
Secure, durable and powerful Those are the features of the HSM document shredder "Made in Germany". Users are impressed by its
Ease of operation
Simplicity of use
Sophisticated functions such as the loading table, mobile on casters or conveyor belt material feed.
The HSM industrial document shredder is the perfect solution for shredding high volumes.
Sustainably developed and produced - HSM places special emphasis on sustainability in its development and production. All HSM products have a long service life and are fitted with energy-saving controls. The high-volume document shredders have, for example, motors compliant with energy efficiency class IE3.
Information in original size
Paper Based Products
---
Optical data media
CD's, DVD's and Blu-ray Disks etc.
---
Magnetic data media
Floppy Discs, ID Cards, Magnetic Tapes, and Cassettes etc.
---
Electronic data media
Memory Sticks, Cards with a Magnetic Chip, Solid State Drives (SSDs) and Mobile Phones, etc
---
Film Based Products
Micro-film, Microfiche, and Slides etc.
---
Hard Drives
Computers, Laptops, and External Devices, etc.
Durable, powerful, sophisticated - the benefits of the HSM industrial document shredder:
Specially hardened solid steel cutting rollers are hard-wearing and guarantee durability.
A powerful and wear-resistant motor ensures continuous operation. Material can be fed in continuously.
The automatic return reduces paper jams and ensures smooth operation. A high level of user safety is guaranteed by an emergency stop switch, or an emergency stop bar.
The integrated rollers and compact dimensions enable the equipment to be set up easily, taking up little space wherever it is needed.
Guarantee: we provide you with a two-year warranty on HSM Powerline machines. Made in Germany: HSM Powerline shredders are manufactured in Germany.
---